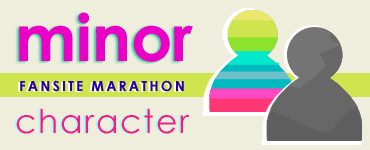 The Minor Character Fansite Marathon
has come to a close! This marathon started at the Livejournal community, so we finished it there, but I want to plug the post for anyone who is not or who has stopped using Livejournal.
Nine awesome shrines were made by Mikari, Saya, Destinie, Dubiousdisc, Samantha, Camy, Varen, Sofia, and myself.
Click here
to check them out. I hope you all enjoy viewing them.
Participants, you've earned 10 coins for submitting a finished site. You should see those in your bag already. Enjoy. :)