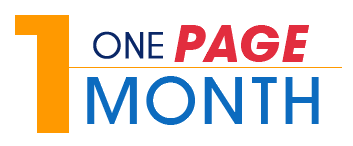 About
One Page, One Month is our most popular event at Amassment. We know many of you guys just finished or are putting finishing touches on your shrines for this year's event. Good luck with that, and we can't wait to see your shrines! Jo will debut those on the 23rd.
What this is is an
encore
. Perhaps you didn't have time to make a shrine during the first round, perhaps you will get inspired by the awesome one pagers that are about to debut and will want to create your own, or perhaps you had so much fun this past month that you want to make another One Pager. This encore is for you!
The same rules of the previous event apply. I'm posting them below for your reference. The main difference between the first round and this one is there is no sign-up grace period. As soon as you sign up, hit the ground running because the Encore shrines are due in exactly one month from today. Sign-ups will remain open for two weeks, but the later you sign up, the less time you have to create a shrine. We have another event scheduled to start soon after, so there will be no extension.
I am starting this event and will handle the sign-up process as well as answer any questions you might have. Sofia will be finishing this event in a month, though, so finished sites will need to be e-mailed or PMed to her. She will post information on submitting your shrines when we get a little closer to the deadline.
Rules
All shrines should generally have one page. It's up to you to decide how the content should be organized, but making more than one page would be defeating the purpose of this event. However, if you would like to expand your shrine into more than one page, you're allowed to do so after the event is over.
Any subjects are acceptable.
You are allowed to apply more than once (within reason -- most likely I'll ask you to show me your first shrine to see if you're close to completing it). I won't be very forgiving if I receive lots of applications for multiple entries, and then see them being cancelled, so please decide on this wisely!
If your shrine includes a fanlisting, the fanlisting must be listed in a separate directory or domain. They can be merged after the event is over.
Please refrain from plugging your shrine at Amassment until the event is over. You are, however, allowed to plug it in on your own website, social networking accounts, or private conversations with your friends. This is to keep the results as a surprise!
Upon completion, please create a 100 x 35 banner for your website so we can link your website back on the results page. Please include that in the upcoming submissions post.
Sign-up
To sign up for this event, please PM or e-mail
Todd
. If you can't make the deadline and need to drop out, or if you want to make changes to your application, make sure you inform me ASAP! :)
Name:
E-mail:
Collective: (optional)
Subject:
Important reminders
Sign-up ends:
September 1 (Send sign-ups to
Todd
)
Submission starts:
September 15 (Send finished shrines to
Sofia
)
Results posted:
September 22
Post any questions or comments you have below. Have fun, guys, and make awesome shrines!